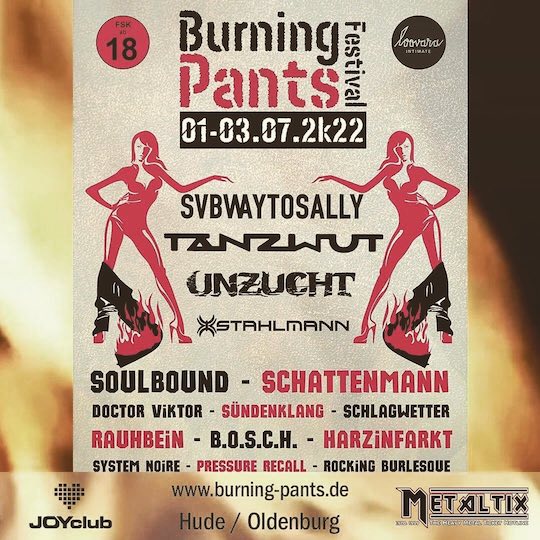 BURNING PANTS Festival – SUBWAY TO SALLY, TANZWUT, UNZUCHT, STAHLMANN u.a.
1. Juli – 3. Juli 2022
(bereits stattgefunden!)
Am Haus Sandersfeld in Hude (Bei Oldenburg)
Unter dem Namen BURNING PANTS versteckt sich ein Festival der besonderen Art. Die Veranstalter beschreiben es so: "Das 1. hedonistische Rockfestival des Nordens für Rockfans, Freigeister, Spielbegeisterte und Menschen, die einfach gerne Spaß haben.Wir feiern im kleinen Kreis mit den Bands und lassen bewusst nur 1000 Fans rein. Unser Credo: Liebe, Leidenschaft und Respekt."
Musikalisch gibt es dabei vom 01. Bis 03. Juli 22 reichlich auf die Ohren. Nämlich SUBWAY TO SALLY, TANZWUT, UUNZUCHT, STAHLMANN, SOULBOUND; SCHATTENMANN und weitere Acts, die ihr auf dem Flyer seht.
Der Eintritt ist ab 18 Jahren erlaubt. Die. Veranstaltung auf einem Swingerclubgelände statt.
Mehr Infos gibt es hier: https://www.burning-pants.de