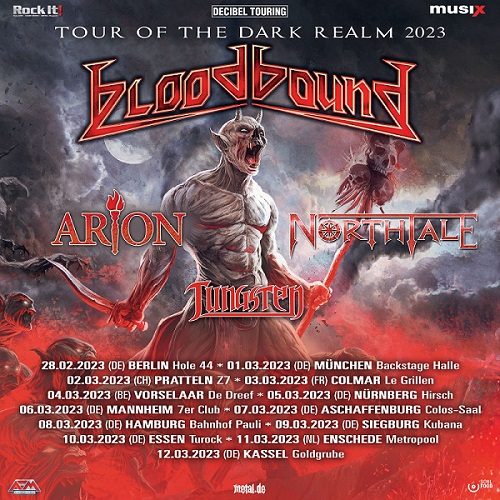 BLOODBOUND, ARION, NORTHTALE & TUNGSTEN – "Tour Of The Dark Realm" 2023
28. Februar – 12. März 2023
Power Metal ohne Ende gibt es angeführt von den Schweden BLOODBOUND ab Ende Februar 2023 auf ihrer mehrfach vertagten "Tour Of The Dark Realm", die durch Deutschland, die Niederlande, die Schweiz sowie Frankreich und Belgien führt.
Die Headliner BLOODBOUND, die letztens ihr neuntes Studioalbum "Creatures Of The Dark Realm" veröffentlichten, freuen sich mächtig darauf wieder unterwegs zu sein:
"Wir sind so bloody happy dass wir endlich wieder live spielen können! Die letzte Show, die wir mit Bloodbound gespielt haben, war auf dem 70.000 Tons Of Metal-Schiff im Januar 2020. Danach stoppte das Tourleben für alle von uns urplötzlich – dazu müssen wir ja nichts mehr sagen. Umso aufgeregter sind wir jetzt, dass es endlich weitergehen kann! Wir können es kaum erwarten, euch, liebe Bloodheads, alle wieder in echt zu sehen!. Mit dabei haben wir neben unseren Label-Mates von ARION auch zwei Bands aus unserem Heimatland Schweden."
Die jetzt neu für 2023 bestätigten Tourdates seht ihr auf dem Flyer.