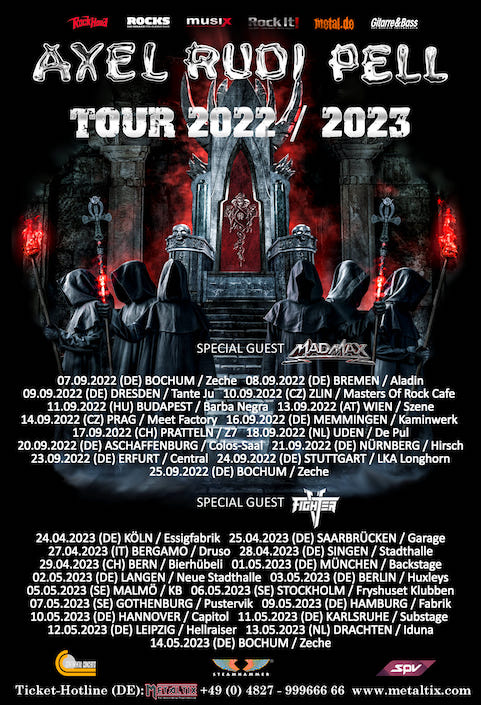 AXEL RUDI PELL  – Tour 2022 / 2023
7. September – 25. September 2022
(bereits stattgefunden!)
Die neuen Daten für die 2022-23 Tour mit MAD MAX und FIGHTER gibt Wattescheids bester Gitarrenexport bekannt. Der erste Teil findet im September 2022 statt. Der zweite ist für April und Mai 23 angesetzt. Beide enden übrigens mit einem Heimspiel in der Zeche Bochum. Bis dahin können Fans dann auch das Material der anstehenden neuen Scheibe "LOST XXIII" in- und auswendig.
Hier das Statement:
(E) Believing in the whole pandemic thing being over soon and regular Rock `n´Roll shows might happen again without any restrictions!!!  Already bought tickets since 2020 will of course remain valid!!!
(D)Wir hoffen, dass die Pandemie bald endlich vorbei ist und normale Rock Shows ohne Beschränkungen wieder stattfinden können!!! Alle seit 2020 erworbenen Tickets behalten natürlich ihre Gültigkeit!!!
Tourdates 2022
07.09.2022 (DE) BOCHUM /Zeche
08.09.2022 (DE) BREMEN / Aladin
09.09.2022 (DE) DRESDEN / Tante Ju
10.09.2022 (CZ) ZLIN / Masters Of Rock Cafe
11.09.2022 (HU) BUDAPEST / Barba Negra
13.09.2022 (AT) WIEN / Szene
14.09.2022 (CZ) PRAG / Meet Factory
16.09.2022 (DE) MEMMINGEN / Kaminwerk
17.09.2022 (CH) PRATTELN / Z7
18.09.2022 (NL) UDEN / De Pul
20.09.2022 (DE) ASCHAFFENBURG / Colos-Saal
21.09.2022 (DE) NÜRNBERG / Hirsch
23.09.2022 (DE) ERFURT / Central
24.09.2022 (DE) STUTTGART / LKA Longhorn
25.09.2022 (DE) BOCHUM / Zeche
Tourdates 2023
04.04.2023 (DE) KÖLN / Essigfabrik
25.04.2023 (DE) SAARBRÜCKEN / Garage
27.04.2023 (IT) BERGAMO / Druso
28.04.2023 (DE) SINGEN / Stadthalle
29.04.2023 (CH) BERN / Bierhübeli
01.05.2023 (DE) MÜNCHEN / Backstage
02.05.2023 (DE) LANGEN / Neue Stadthalle
03.05.2023 (DE) BERLIN / Huxleys
05.05.2023 (SE) MALMÖ / KB
06.05.2023 (SE) STOCKHOLM / Fryshuset Klubben
07.05.2023 (SE) GOTHENBURG / Pustervik
09.05.2023 (DE) HAMBURG / Fabrik
10.05.2023 (DE) HANNOVER / Capitol
11.05.2023 (DE) KARLSRUHE / Substage
12.05.2023 (DE) LEIPZIG / Hellraiser
13.05.2023 (NL) DRACHTEN / Iduna
14.05.2023 (DE) BOCHUM / Zeche