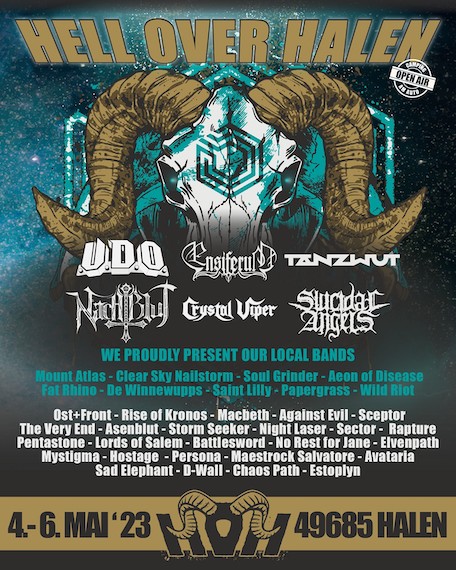 HELL OVER HALEN FESTIVAL 2023 – UDO, ENSIFERIUM, TANZWUT, CRYSTAL VIPER u.a.
4. Mai – 6. Mai 2023
Das HELL OVER HALEN Open Air 2023 hat die Komplettierung seines Lineups für 2023 bekannt gegeben. Anfang Mai geht das Festival drei Tage über die niedersächsischen  Bühnen und präsentiert dabei insgesamt 40 Bands. Neben einigen lokalen Acts, werden auch große Namen wie UDO, ENSIFERIUM, CRYSTAL VIPER, SUICIDAL ANGELS, OST+FRONT, NACHTBLUT,  RISE OF KRONOS, MACBETH, AGAINST EVIL, SCEPTOR, THE VERY END, ASENBLUT, STORM SEEKER, NIGHT LASER, SECTOR, RAPTURE, PENTASTONE, LORDS OF SALEM, BATTLESWORD, NO REST FOR JANE, ELVENPATH, MYSTIGMA, HOSTAGE, PERSONA, MAESTROCK SALVATORE, AVATARIA, SAD ELEPHANT, D-WALL, CHAOS PATH, ESTOPLYN und viele weitere für Stimmung sorgen.
Tickets und weitere Informationen findet ihr auf: https://www.helloverhalen.de/